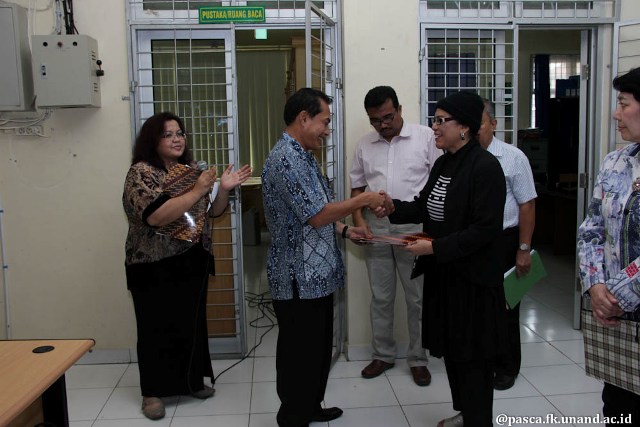 Peresmian pustaka pascasarjana Fakultas Kedokteran Universitas Andalas dan Penyerahaan Sumbangan buku dari anggkatan 2009 ke pustaka Pascasarjana Fakultas Kedokteran yang di laksanakan
Eva Decroli
Observational study with cross-sectional design was aimed to reveal differences in the level of survivin and raf-l kinase in prediabetes, 'uncontrolled type 2 diabetes mellitus (T2DM) and controlled T2DM related to HbAlc and serum triglyceride in diabetes group. In this study, we included 30 people as prediabetes group, 30 people as controlled T2DM group, and 30 people as uncontrolled T2DM 8troup, and to gather normal reference of s.urvivin and raf-l kinase level, we examined 10 non diabetic healthypeople. Level of survivin and raf-l kinase was measured using ELISA technique, HbAlc was measured using HpLC and triglyceride was measured using enzymatic technique. in this study, we compared the level of survivin and raf-1 kinase between prediabetes, controlled and uncontrolled T2DM. We also analyzed correlation between survivin and raf-l kinase with HbAlc and triglyceride level in diabetic goup. data were analyzed with gaired-t-test, Mann-Whitney, and Spearman correlation with P<0,05 considered as significant.
Keyr'vords : Apoptosis, Pancreatic Beta Cell, Raf-1 kinase, Survivin, Diabetes Mellitus
Yufri Aldi
One of the plant used to treat type I hypersensitivity reaction is noni fruit (Morinda citrifolia L.) Previous studies,have shown that ethanolic extract of noni fruit could inhibit cutaneous anaphilactic reaction on male mice and in-vitro inhibition of sensitized mastocyte degranulation Ethanolic extract from its leaves in topical usage could suppress inllammation. Recent research of noni ethanol extract has been known to inuease antibody titer on white male mice which was induced by rroat red blood cells and also increase the amount of lymphocyte, neutrophil, and
eosinophil. Scopoletin is one of the active compound that contained in ethanolic extract ofnoni fruit.
Viviyanti Azwar
Fenomena menurunnya mutu pelayanan pada Rumah Sakit Umum Pusat Dr M Jamil perlu dipahami karena hal tersebut merupakan penentu bagi kinerja rumah sakit'sebagai perusahaan jasa. Mutu pelayanan ditentukan oleh sumber daya organisasi, keterikatan kerja, kinerja karyawan dan soft skills secara simultan.
Kata kunci: Sumber Daya Organisasi, Keterikatan Kerja, Kinerja Karyawan, Soft Skills dan Mutu Pelayanan

May 29th, 2013

Berita

No Comments »

May 22nd, 2013

Berita

No Comments »
Program Pascasarjana Fakultas Kedokteran Membuka penerimaa mahasiswa baru tahun ajaran 2013/2014, yang mana pada saat sekarang ada 2 pilihan program Doktor
Informasi program S3 Ilmu kedokteran Fakultas Kedokteran dapat di temui di :
Sekretariat Penerimaan Mahasiswa Baru
Program Pascasarjana FK.Unand ( Lab. Biomedik )
Jl. Perintis Kemerdekaan No.49
PO.BOX 49 Padang 25127
Telp. 0751- 31746, Fax. 0751-32838
Contact Person :
Marsyafrizal ( 081363127043 )