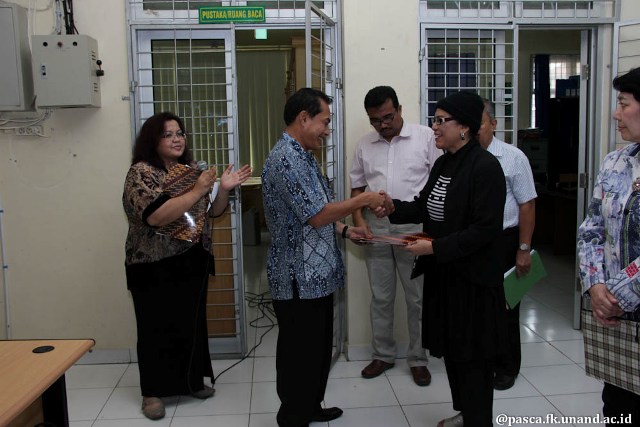 Peresmian pustaka pascasarjana Fakultas Kedokteran Universitas Andalas dan Penyerahaan Sumbangan buku dari anggkatan 2009 ke pustaka Pascasarjana Fakultas Kedokteran yang di laksanakan

November 6th, 2012

Berita

No Comments »
Pada tanggal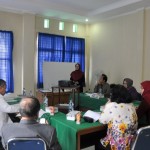 06 November 2012 telah di laksanakan ujian PRELIM di ruangan seminar labor biomedik Fakultas Kedokteran Universitas Andalas atas :
| | |
| --- | --- |
| Nama | Yuliarni Syafrita |
| No Bp | 0931202009 |
| Program Studi | S3 Biomedik |
| Judul |  Hubungan kadar Beta-site APP Cleavage Enzyme 1 ( BACE1), Beta Amyloid (Aβ) dan 4 Hydroxinoeal (4HNE), Plasma dengan gangguan Fungsi Kognitif Pasca Stroke Iskemik |

October 1st, 2012

Artikel / Thesis

No Comments »
Nuzulia lrawati
Malaria merupakan masih merupakan masalah kesehatan dunia kmena telah menginfeksi 500 jua penduduk dunia terutama di Negara-negara beriklim tropis.
Indonesia merupakan salah satu Negara beriklim fropis yang dikategorikan sebagai daerah endemi malaria. Sampai saat ini belum ditemukan cara efektif melawan
malaria karena Plasmodium falciparum penyebab malaria secara genetik mudah bermutasi memunculkan alel baru sehingga penatalaksanaim malmia menjadi sulit.
Kata Kunci : Gen MSP1 blok 2, alel Kl, MAD20 dan RO33.

August 16th, 2012

Artikel / Thesis

No Comments »
Type 2 diabetes mellitus was a degeneration disease which become health problem in Indonesia as well as in the world. because of  that DM type 2 cases have increased year by years, there are some risk increasing welfare. change of food habit & less physical activity that factor to predisposition in increase incidence DM type 2
Keywords : DM tipe2. hyperglycemia.endothel.PARP.ICAM-1.NO.GPX

August 15th, 2012

Artikel / Thesis

No Comments »
The brain is one of the main targets hypertension. However, little is known about the association hypertension to motor dysfunction. Also the association interleukin-6 (IL- 6), TNF-o, nitic oxide and glutamate to motor dysfunction is still controversion The purpose of this study is to measure the association motor dysfunction to hlpertension and relate to interleukin-6 (IL-6), TNF<lo nitric oxide and glutamate
Key Words : hypertension, nitric oxide, motor dysfunction

August 15th, 2012

Artikel / Thesis

No Comments »
Hypertension is one major public health problem in Indonesia and other countries in the World. The main factor that involves in the pathophysiology of essential hypertension is the interaction between genetic and environmental factor . eNOS 3 gene is one of the important genes which is related to the high prevalence of HET. This gene  expresses the NbS enanoe which regulates the spthesis of NO in human body. This enzyme causes vasodilatation, which decreases peripheral resistant and blood pressure.
key words : essential hlpertension, eNOS3 gene and nitric oxide plasma level